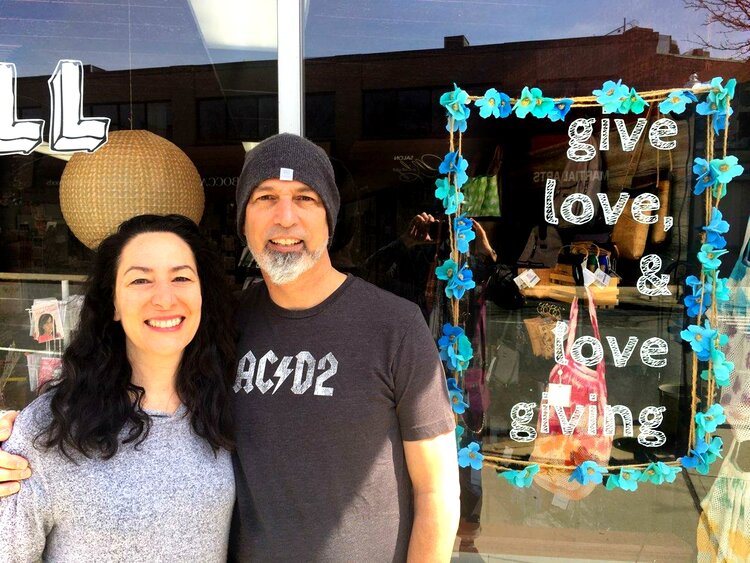 In July of 2007 we opened our shop Davis Squared in our funky little neighborhood of Davis Square, Somerville, right around the block from where we lived. We love living in Somerville, chose to raise our family in Somerville, love the arts there, LOVE the restaurants there, and especially love the incredible people we've met there. Five years later we opened our sister shop Arlington Centered, excited to be part of a new neighborhood, in another town we love, full of wonderful people with the most incredible town pride. Our shops were born from one idea and that was "give love & love giving."
Times had been great, and we were happy to be a go to gift shop for our communities, but obviously times have changed dramatically for everyone lately, and we've been forced to pivot in our business model and thus was born our new online shop. While our shops were closed temporarily, people still celebrated birthdays, holidays, and all sorts of major and minor victories in their lives and we wanted to be there for them. We love the wonderful reaffirming power that a thoughtful card or gift can bring, and one way or another we will not fail in our mission to bring these to you. 
We hope you enjoy our online shop as much as you've enjoyed shopping in our stores, and we hope that you all stay safe, give love & love giving.

We are proud to be in partnership with the talented folks at Siena Farms, and serve as a weekly drop off location for their amazing seasonal CSAs. If you would like to sign up and take advantage of some of New England's best local grown produce visit them at
sienafarms.com/CSA
Powered by AZEXO Shopify page builder